Region 11 IEIC Project

The Region 11 Interagency Early Intervention Committee (IEIC) is responsible for the implementation of Help Me Grow child find and public awareness in the 7-county metro area. Help Me Grow is a statewide initiative that conducts outreach and public awareness activities to connect young children who have developmental delays or disabilities and their families to free early intervention services. Help Me Grow offers information on child development and a way to refer an infant, toddler, or preschooler for free help when there are developmental concerns.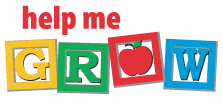 Metro ECSU is fiscal host for an interagency agreement with the Minnesota Department of Education for the seven county Region 11 IEIC using federal funding under CFDA number 84.181 Special Education Grants for Infants and Families with Disabilities.
Contact Information

Marty Smith, Region 11 Help Me Grow Interagency Early Intervention Committee (IEIC) Project Coordinator, 651-247-3429 | Marty.Smith@metroecsu.org
http://www.helpmegrowmn.org |

Kathy McKay, Region 11 Help Me Grow Child Find and Public Awareness Coordinator,
651 728-0400 | Kathy.McKay@metroecsu.org