Order Help Me Grow Outreach Materials
An statewide initiative that conducts outreach and public awareness activities to connect young children who have developmental delays or disabilities and their families to free early intervention services.
Outreach Materials
Print copies can be ordered at no cost using the Help Me Grow (HMG) Resource Order form (also fillable-save first) for programs and agencies in the 7-county metro area.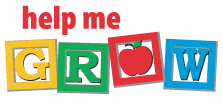 Others from around the state are welcome to download the pdf files and print their own materials OR order resources from Region 11 using the Help Me Grow (HMG) Resource Request & Cost per Item Form (also fillable-save first) with the cost per item and handling fee noted.
Metro ECSU is fiscal host for an interagency agreement with the Minnesota Department of Education for the seven county Region 11 IEIC using federal funding under CFDA number 84.181 Special Education Grants for Infants and Families with Disabilities.
Other Resources

Contact Information
Marty Smith, Region 11 Help Me Grow Interagency Early Intervention Committee (IEIC) Project Coordinator
651-247-3429, Marty.Smith@metroecsu.org
http://www.helpmegrowmn.org |

Kathy McKay, Region 11 Help Me Grow Child Find and Public Awareness Coordinator,
651 728-0400, Kathy.McKay@metroecsu.org
Greater Minnesota Launch PAD
AGM Launch PAD is a program that provides culturally affirmative psychological assessments to students (ages 0-21) who are Deaf, Hard of Hearing and DeafBlind, who live in Greater Minnesota (outside the 7 county metro area) and attend a Minnesota public school.
Judy Wolff Library
Lending Library Materials are available September through June for Minnesota residents only. Please contact the library to reserve items well in advance of time needed.
More Information