Order Help Me Grow Outreach Materials
Outreach Materials
Print copies can be ordered at no cost using the Help Me Grow (HMG) Resource Order form (also fillable-save first) for programs and agencies in the 7-county metro area.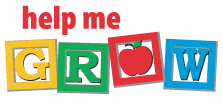 Others from around the state are welcome to download the pdf files and print their own materials OR order resources from Region 11 using the Help Me Grow (HMG) Resource Request & Cost per Item Form (also fillable-save first) with the cost per item and handling fee noted.
Metro ECSU is fiscal host for an interagency agreement with the Minnesota Department of Education for the seven county Region 11 IEIC using federal funding under CFDA number 84.181 Special Education Grants for Infants and Families with Disabilities.
Other Resources

Contact Information
Marty Smith, Region 11 Help Me Grow Interagency Early Intervention Committee (IEIC) Project Coordinator
651-247-3429, Marty.Smith@metroecsu.org
http://www.helpmegrowmn.org |

Kathy McKay, Region 11 Help Me Grow Child Find and Public Awareness Coordinator
651 728-0400, Kathy.McKay@metroecsu.org
Special Education Programs
---
Centers Of Excellence
We believe that using data to inform our practice at multiple levels of implementation ultimately contributes towards a positive impact on the children and families we serve.
---
MN Low Incidence Projects (website)
are designed to assist school districts across the state in fulfilling federal requirements in the areas of implementation of the IDEA, professional development and insuring the availability of high quality staff in the low incidence areas of Special Education.
---
Regional Low Incidence Project - Region 11
is one of eleven state projects. These projects address identified gaps and needs in special education programs and related services for students identified with any Low Incidence disability.
---
Region 11 IEIC Project
is responsible for the implementation of Help Me Grow child find and public awareness in the 7-county metro area. Help Me Grow is a statewide initiative that conducts outreach and public awareness activities to connect young children who have developmental delays or disabilities and their families to free early intervention services.
---
Greater MN Launch PAD
is a program that provides culturally affirmative psychological assessments to students (ages 0-21) who are Deaf, Hard of Hearing and DeafBlind, who live in Greater Minnesota (outside the 7 county metro area) and attend a Minnesota public school.
---
Free Digital Para Development Resources
for MN Paraprofessionals working with students who have low incidence disabilities. Compiled by the Region 11 - MN Low Incidence Projects.
---
Special Education Main
Finding creative, cost-effective approaches to help students with disabilities is the goal of these special education programs housed at Metro ECSU. Programs provide technical assistance and cutting-edge staff development.
Judy Wolff Library
Lending Library Materials are available September through June for Minnesota residents only. Please contact the library to reserve items well in advance of time needed.

Library More Information
Metro ECSU Online Registration
All listings and events offered by Metro ECSU and register at our Event Calendar page.

Event Calendar & Registration